Party at the Pier
Saturday, October 4, 2008
6:00 pm – 9:00 pm
The Navy Pier
* Busing provided. If you plan to take a taxi make sure it drops you off all the way at the end of the Pier
Party at the Pier, with Your Peers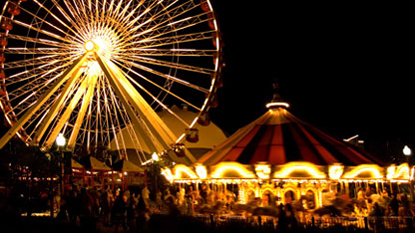 It's new, it's exciting and it's happening at NECA 2008 Chicago. On Saturday, October 4, NECA 2008 Chicago is opening with the Party at the Pier—a night of glitz and glamour you won't want to miss. This event will take you beyond the velvet ropes to the Navy Pier, transformed into an area made for partying. Part swanky nightclub, part jazz lounge, part dance club, this party will be unlike anything you have ever seen.
While you're partying on the pier with your peers, enjoy delectable foods and Chicago treats, and sip on designer cocktails or wines served from specialty bar areas. Or choose your poison from the vast circle bar area, sponsored by Autodesk. And what kind of party would this be without music?
Entertainment will be provided by The Pink Flamingos-- a unique show band famed for facilitating audience participation and contagious enthusiasm. For more than 20 years, "The Pinks" have specialized in corporate entertainment. They count the best of the Fortune 500 as friends and clients. And, not only have they performed at conventions all over the U.S.; they have also taken Europe by storm, dazzling audiences at such mega-events as the World Cup Soccer Finals in Paris.
The group covers a wide range of music, and throughout their non-stop performance, they have the audience out of their seats, on their feet, and up on stage. Combining audience participation with choreography; outrageously original costuming; and the best of rock, R&B, disco, country, and contemporary music has earned The Pink Flamingos a reputation as maestros of the magic that brings people together.
With something for everyone, a Jazz lounge will also be available for partygoers who prefer a quieter atmosphere.
The dress code for this party is smart, and jackets are requested.
There's no better, more exciting way to kick off NECA 2008 Chicago. We'll see you at the Pier!