General Sessions
Opening General Session with Second City, First in Comedy
10:15 am – 11:30 am,

Arie Crown Theater

Sunday, October 5
First General Session
Sunday, October 5
Second City, First In Comedy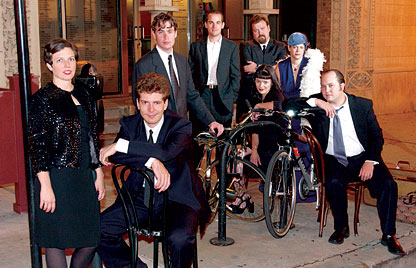 The Second City comedy troupe went into business on December 16, 1959, taking its name from a derisive profile of Chicago in The New Yorker at a time when Chicago was the second most populated city in the U.S. – and feeling just a just a bit miffed at those snobs in Manhattan. It was almost as if the young comedians felt they had something to prove.
And prove it they did! Success was almost instantaneous, and today Second City is the world's most famous improvisational theater company, second to no one.
If the comedic geniuses in this troupe has built "a temple of satire," as an early Time Magazine article put it, they have engendered worship in the form of superlative reviews for legendary theatrical performances across North America and Emmy awards for a number of TV shows. And, Second City has also produced a cadre of disciples to go out into the world and spread the word because the group has become the premier training ground for the comedy world's best and brightest.
The Second City alumni list reads like a who's who of American comedy. It includes Mike Nichols, Elaine May, Alan Arkin, Joan Rivers, Robert Klein, Peter Boyle, Harold Ramis, John Belushi, Dan Aykroyd, Bill Murray, Gilda Radner (in fact, practically the entire cast of the original Saturday Night Live and many next generation SNLers), George Wendt, Martin Short, John Candy, Bonnie Hunt, Tim Meadows, Chris Farley, Mike Myers, Tina Fey, Steve Carell, Stephen Colbert, Julia Louise-Dreyfus, Horatio Sanz, Ryan Stiles, and countless others.
Today, Second City has branched out into the corporate entertainment sphere, presenting topical comedy sketches custom-tailored to delight convention audiences. Using few props and costumes, punctuating scenes with original music, the ensemble creates a slice-of-life environment, lampooning our modern lives – political, social and cultural.
These funny people may have you rolling in the aisles during their appearance at our Opening General Session on Sunday, October 5. But bear in mind that they're using humor to bring you truth and perspective and improvisation to help NECA conventioneers improve communication, collaboration, and innovation – unless, of course, you're too busy laughing to notice that immediately!
Day 2 General Session

-

Special Labor Relations Session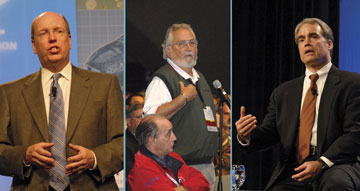 10:00 am – 11:30 am,

Arie Crown Theater

Monday, October 6
NECA 2008 Chicago convention attendees will have an exclusive opportunity to discuss and explore the most current and critical issues shaping the electrical construction labor market. This thought-provoking Special Labor Relations Session will focus on current trends and the latest issues in the always-significant field of Labor Relations.
"The NECA Labor Relations Town Hall in San Francisco was great! It gave Contractors a respectful, open forum where they could ask questions directly to the NECA and IBEW leaders. You just don't have face-to-face discussions with these folks every day, so I really appreciated having this unique opportunity."

Tom Curran, ECT Alameda County & Red Top Electric, Hayward, CA
Labor Relations
Please check back for Labor Relations updates.
Closing General Session
with Bob Costas- Winning Through Teamwork & Fair Play
9:00 am – 10:15 am,

Arie Crown Theater

Tuesday, October 7
Bob Costas – Winning Through Teamwork & Fair Play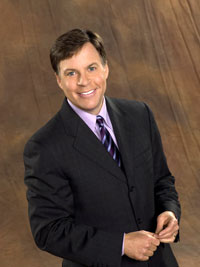 Broadcaster extraordinaire Bob Costas is a most fitting choice to address our Closing General Session as NECA's Convention wraps up on Tuesday, October 7. He's been providing wrap-up – as well as play-by-play, color, and insights on "the big game" – for nearly 30 years. And, he's so good at it that this non-athlete is recognized as a champion in his field.
Costas is overwhelmingly well-versed in a myriad of sports, including basketball and football, but he is most identified with the Olympics and baseball. True, he never played any sport professionally, but he does have a number of trophies – 19 Emmy Awards, to be exact – and he has been named "National Sportscaster Of The Year" an unprecedented eight times by his peers. In fact, he has been credited with essentially reinventing sports broadcasting by imparting levels of articulation, intelligence, polish, insight, and wit that none of the game-to-sideline "crossovers" have matched. He has been likened to a Howard Cosell, but with a congenial personality.
Fresh out of Syracuse University with a degree in Communications, Bob landed a job at KMOX Radio in St. Louis, Missouri, one of America's most prominent radio stations, and gained fans announcing games for the Spirits of St. Louis baseball team. But, his big break came in 1979 when NBC signed him on as a sportscaster. Since then, he has covered every major sport for the network, including six Major League Baseball Championship Series, five World Series, four Super Bowls, and every Olympic outing since 1988. And, along with appearing on NBC's Football Night In America every week during the season, he has also hosted HBO Sports and Entertainment programs since 2001.
He has diversified from sports broadcasting a bit, with cameo appearances in film and documentaries. He is also the author of a book – Fair Ball, A Fan's Case For Baseball – which earned excellent reviews, remained on The New York Times bestseller list for several weeks and influenced the ongoing discussion of the game's direction. And, most recently, he has taken on a new role as a motivational speaker.
Bob Costas is sure to inspire NECA conventioneers simply by talking about what he knows best – the importance of teamwork and fair play, strategic thinking, the love of the game, and winning. After all, in business as in sports, it all comes down to making the best use of available assets to achieve goals.