At The Convention
The NECA Convention is an exciting mix of opportunities for education, inspiration, networking, and fun! Our schedule is filled to bursting with rewarding activities, so check out our schedule early: you'll need plenty of time to decide which ones to pick.
Highlight
Party at the Pier

It's new, it's exciting and it's happening at NECA 2008 Chicago. On Saturday, October 4, NECA 2008 Chicago is opening with the Party at the Pier—a night of glitz and glamour you won't want to miss. More
Education
Preconvention Workshops, Management Seminars, Technical Workshops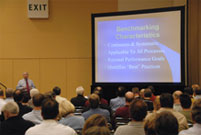 We had a very successful turnout in San Francisco last year for our seminars, and we're looking forward to making Chicago a success. Please come back for more information on these seminars in the spring!