Closing Celebration
Closing Celebration
with Ricky Skaggs & Bruce Hornsby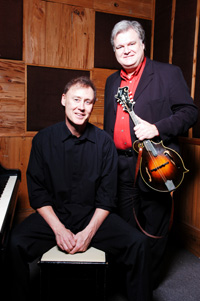 8:30 pm – 10:00 pm,

Arie Crown Theater

Tuesday, October 7
Making Beautiful Music Together
What do you get when you blend the soulful musical voice of a country and bluegrass legend with the restless creativity of a world-renowned pianist and songwriter?
A breakthrough collaborative album that has been capturing rave reviews ever since its debut.
A series of televised appearances and concerts that played to sold-out venues all across the nation.
An unforgettable evening that is the perfect finale to a week full of inspiration and fun.
Trick question! They're all correct.
But, you have to be a NECA Conventioneer to take advantage of answer (c).
That's because Ricky Skaggs and Bruce Hornsby will be the featured talent at our Closing Celebration on October 7. That evening, the Arie Crown Theater will ring with songs from their acclaimed joint venture and a few surprises, too – as if adding piano, inimitable songwriting, and remarkable solos to the core bluegrass lineup of mandolin, guitar, bass, fiddle, and banjo isn't a pleasant surprise in and of itself!
Eleven-time Grammy Award winner Ricky Skaggs is affectionately known as one of bluegrass music's most recognized ambassadors. From his beginnings in that genre, he went on to put his own stamp on the mainstream country format,resulting in twelve #1 hits and eight Country Music Association Awards. 1997 marked his triumphant return to bluegrass and the establishment of his own Skaggs Family Records label, which has gone on to break new sales records. Now in his 37th year as a professional musician, he continues to record and tour with his band Kentucky Thunder as one of music's most sought after live performers. In fact, Ricky Skaggs and the band are the most recent winners of a Grammy Award for Bluegrass Album of the Year ("Instrumentals").
A three-time Grammy winner, Bruce Hornsby has sold more than 10 million albums since his multi-platinum debut in 1986. Ever since then he has been praised as a virtuoso pianist, singer-songwriter, and bandleader. He draws from a wide array of influences--among them jazz, pop, classical, bluegrass, rock, vaudeville and sounds both swinging and downright uncategorizable-- and refines them all with his own patented brand of playful lyrical whimsy to create music that is at once sublime, elegant, and just plain catchy. Hornsby is also one of pop music's most in-demand "side" men and has collaborated on more than 100 albums with such artists as Bob Dylan, Don Henley, the Grateful Dead, Bob Seger, Bonnie Raitt, Béla Fleck, Willie Nelson, Branford Marsalis, and Chaka Khan, among many others. That's why they call him "a musician's musician!"